Disable Cortana – Private and Corporate
In companies one would like to limit the data acquisition of Microsoft as far as possible. Microsoft follows the trend of the other software manufacturers and has integrated the Microsoft language assistant Cortana into the new operating system Windows 10. For private users it's a nice thing, but in my opinion it's more of a gimmick. However, this is not welcome for corporate use. First, it would bother colleagues if everyone talked to their computer. It is also a data protection problem. For most businesses, disabling Windows 10 Cortana is an important point.
What is Cortana?

Windows 10 Cortana is a language assistant from Microsoft that is integrated into the Windows 10 operating system. The software is similar to Apple's Siri, Amazon Alexa or Google Now. It simplifies operation by giving commands such as "How will the weather be tomorrow? " just can talk and get an answer. For many private users this is nice, I personally use this rather less. Also enterprises want to switch off this function often, because one does not know how much Microsoft collects the data here.
Why disable Windows 10 Cortana ?

In corporate networks, many administrators want to switch off voice control. There's a lot of background to this. On the one hand, data protection is a priority in companies, on the other hand, colleagues would feel disturbed if everyone was talking to the computer. That's more distracting than productive. So you have to disable Microsoft Cortana.
Reasons for this could be:
The user before The PC may be disturbed or distracted.
Fear of data protection
Voice control is regarded as a "toy
There are probably other reasons to have Cortana shut down, but these are probably the most common.
Disable Cortana for private use

The language assistant can also be easily switched off in the private area if you no longer want to use it. This can easily be done from the taskbar. Cortana can also be activated here. But now to the procedure.
Click the search box in the Windows taskbar
Click on the notebook icon / on the three dots "..."
Then open settings
Here is an entry "Cortana can offer suggestions, ideas, reminders, warnings and much more".
This slider must be turned OFF.
You can also delete the data that the wizard has already collected at this point.
Deactivate Cortana in companies

Especially companies and enterprises have to deactivate the wizard. Especially the collection of data brings this requirement. One does not know exactly which data is sent to Microsoft. To switch off Cortana, you have the option to work with Group Policies / GPO, or to set the settings in the Windows Registry.
Group Directive / GPO

To block Microsoft Cortana or deactivate Cortana in Windows 10, it is best to use an Active Directory Group Policy / GPO in corporate networks. Because you want to disable it for each user on the computer, you must use a computer policy because it affects the "entire" computer. Here we create a new policy and navigate to the following path:
Computer ConfigurationGuidelinesAdministrative TemplatesWindows ComponentsSearch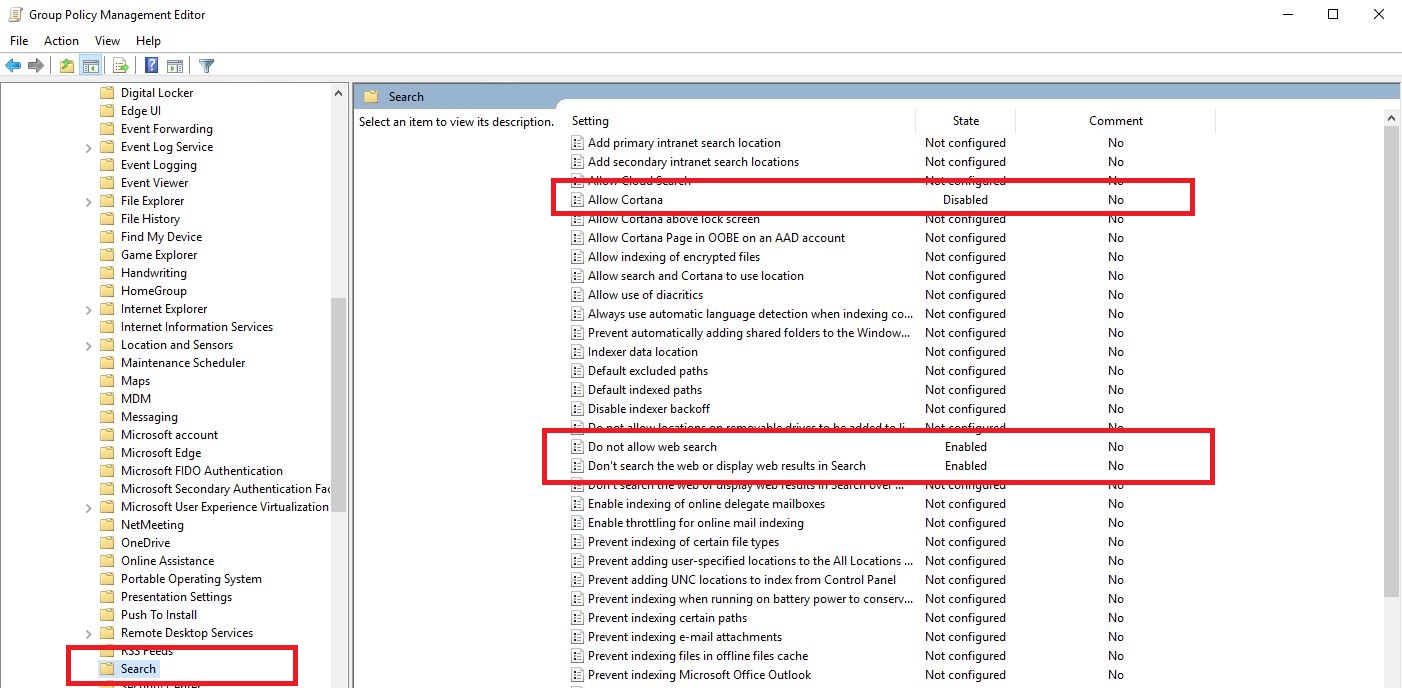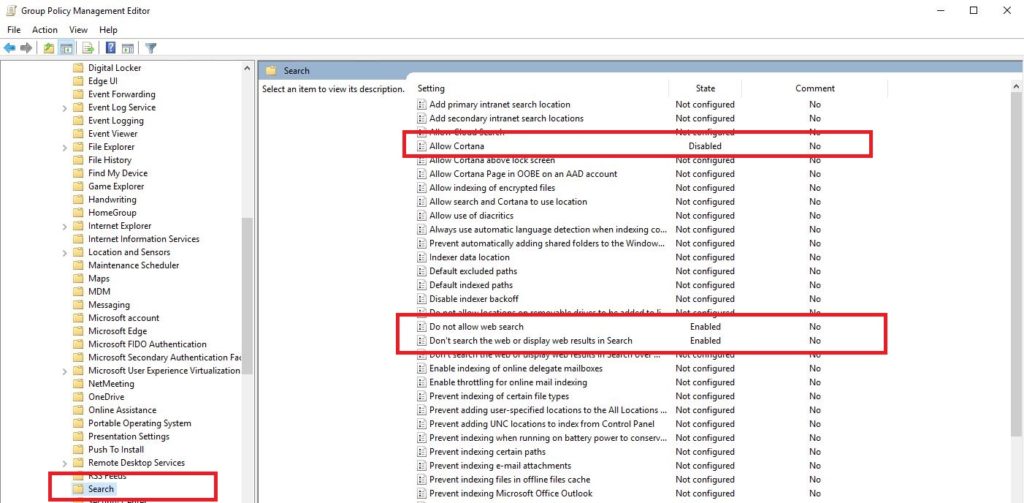 Here we activate or deactivate the following guidelines:
Allow Cortana on disabled
Do not search the web and do not show web results in search on enabled
Do not allow web search also enabled
The GPO must of course be assigned to the computer OU. After restarting the computer, Cortana should now be blocked.
Windows registry
Group policies are usually just a nice view of registry values. Therefore, the settings for blocking the Cortana Assistant can also be made directly in the Windows registry. Since it concerns the complete computer as described above, no matter which user is logged in, the settings would have to be set under "Local_Machine". To do this, we proceed as follows:
Start Windows Registry as Administrator
Change to the following directory:
HKEY_LOCAL_MACHINESOFTWAREPolicyManagercurrentdeviceExperience
Here the DWORD value (32-bit) AllowCortana must be set to "0".
If the entry does not exist, it must be created.
If system administrators want to customize all settings that are available via GPO, the following steps must be taken:
Open WindowsRegistry as Administrator
Navigate to the following path:
HKEY_LOCAL_MACHINESOFTWAREPoliciesMicrosoftWindowsWindows Search
The following DWORD values (32-bit) must be set here. If these are not available – please create:
AllowCortana = dword:00000000
DisableWebSearch = dword:00000001
AllowSearchToUseLocation = dword:00000000
ConnectedSearchUseWeb = dword:00000000
After these registry values have been set, the computer must be restarted to accept the settings.
Cortana can also be used in Microsoft Edge, but there are special guidelines for this:
<font color="#ffff00″>-=https://www.itnator.net/microsoft-edge-gruppenrichtlinien-gpo/=- sync:ßÇÈâÈâ